The New Film Company's Exciting Adventure Films -- seen on PBS, Discovery, National Geographic Explorer, and Outdoor Life.
Sailing and ocean racing: Dodge Morgan, the STAR (Singlehanded TransAtlantic Race), the Two-STAR (Doublehanded TransAtlantic Race), the BOC Challenge, the Around Alone Race. Boat building: the Friendship sloop. Outward Bound.
---
To Order
Video List
New Film Co.
Contents
Home Page
What's New
56-minutes, DVD or PAL/VHS video
Personal home use: DVD: $24.95
Classroom/group/organizational use: $99.95 DVD
Also available on VHS/PAL format: $19.95 home use; $99.95 group use
"Being on a small boat at sea gives you the illusion that you control your own destiny." Arne Brun Lie
In 1940, Arne "Bels" Brun Lie was a young Norwegian with a passion for sailing. When Hitler invaded Norway, the sailing stopped, and Arne and his friends joined the Resistance. Still in training, he was arrested by the Gestapo, and at age 18 began a journey that wound through the horrors of three German concentration camps. His friends were executed, leaving Arne with only his dreams of the open ocean, his will, and luck to sustain him till war's end.
For more than forty years, the memory and meaning of the events of his youth were buried, living only in his nightmares. At age 65, prompted by a near fatal heart attack and his emigration to America, Arne decides to revisit the camps and then sail his beloved boat to his new home.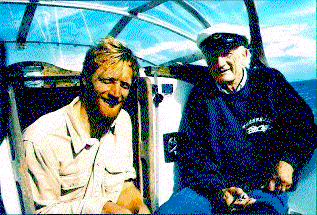 The film opens as Arne begins a two-person TransAtlantic race with filmmaker David Conover. As they cross the treacherous North Atlantic, they confront a Force 9 gale, the loss of the self-steering system, and a final reckoning no one anticipated. Through flash-backs to his visits to Germany, Arne also faces his own history. With its intimate and unique style, PASSAGE offers a compelling glimpse of a Holocaust survivor, his recollections, and his resilient spirit.
"An important personal statement...a deeply moving film." Elie Wiesel
"PASSAGE is more than just the record of a man sailing the sea, it is several journeys: across the water, across time, and across one's soul. Highly recommended. Editor's Choice" Video Librarian
"...the story of Bels and his life voyages speaks to the heart of being human."
Sailing Magazine
---
---
To Order DVD/Video List New Film Co. Contents Home Page What's New
We welcome your inquiries and comments
The New Film Company, Inc.,
7 Scott Street
Cambridge, MA 02138, U. S. A.
Phone: 617/520-5005 Fax: 617/491-9201
E-mail: newfilmco@aol.com
---
© 1997 The New Film Company, Inc. All rights reserved.
Revised: September 28, 2012