To Order DVD/Video List New Film Co. Contents Home Page What's New
---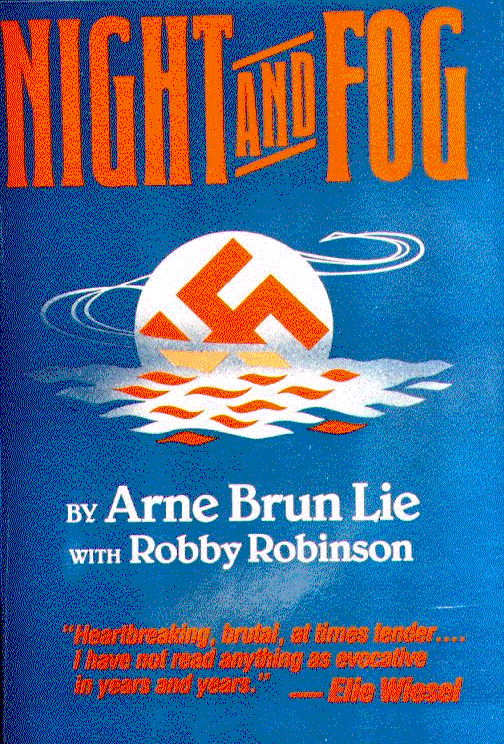 Night and Fog
by Arne Brun Lie
with Robby Robinson
W. W. Norton Company, 254 pages
When the Nazis controlled his native Norway, Arne Brun Lie was arrested by the Gestapo for resistance activity. He was sixteen years old. Imprisoned in a series of camps where filth, silence, and torture were ever present, he watched while his friends weakened and died at the hands of the Nazis. Arne was one of the few to survive until the British came.
For decades, that past haunted and blighted Arne's life. Even emigration to America failed to put the horror of the war years behind him. Then, with two young friends, he set out to sail a small boat from Boston to Norway. At sea he told his companions the story of his wartime past. By the time they reached Norway, he had come to terms with his life. He would marry the American woman he loved and make peace with the past, perhaps even with the German people.
Told with a moving simplicity and clarity, and with a sanity and goodness of emotion that must have come from courage, this is an inspiring and captivating story.
ABOUT THE AUTHOR: Arne Brun Lie lives in Ipswich, Massachusetts with his wife and two small children.
"Heartbreaking, brutal, at times tender....I have not read anything as evocative in years and years." Elie Wiesel
---
For information on Arne Brun Lie's video PASSAGE
---
To Order DVD/Video List New Film Co. Contents Home Page What's New
We welcome your inquiries and comments
The New Film Company, Inc.,
7 Scott Street
Cambridge, MA 02138, U. S. A.
Phone: 617/520-5005 Fax: 617/491-9201
E-mail: newfilmco@aol.com
---
© The New Film Company, Inc.
Revised: May 04, 2012.